SEO Consultancy
Squarespace SEO Consultant
Amplify Organic Growth for your Squarespace Website, Drive Traffic & Ranking Growth.
Squarespace SEO Consultant
Juice up your Squarespace Organic Traffic with SEO Consultancy.
Are you looking for one of the UK's most esteemed SEO consultants to amplify your Squarespace website rankings to the top 3 on the first page of Google? Did you deploy a website on the Squarespace platform and expect more ranking momentum for your target keywords?
If your website just isn't ranking & you can't seem to gain any ranking or traffic momentum, then it's time to enlist the help of a Squarespace SEO expert who knows the platform inside out, saving your business time and money.
Out of the box, Squarespace websites are built for clean indexing by search engines, that means, most of the basic stuff is dealt with – however, ranking in Google for target keywords brings with it a great deal of complexities.
Content, links and user experience are heavily weighted factors – and typically those aren't impacted by your choice of CMS – although some CMS platforms make user experience improvements a tad more difficult.
Squarespace as a CMS offers people with little web design experience to build a professional looking site with drag and drop, click and edit & WYSIWYG functionality. But, most people designing their own business website on the Squarespace platform will need some form of SEO support to speed up rankings & traffic growth.
Squarespace SEO Services I Offer
I offer an array of Magento Search Engine Optimisation Services designed to get your eCommerce website ranking for relevant keyword and category based searches.
Whatever the situation may be – from another seo agency or SEO consultant failing to deliver, or, maybe your at the point where your own SEO efforts haven't worked and now you require the SEO services of a specialist like myself.
I offer a complete SEO strategy, implementation and authority building all under one service – meaning I can increase rankings for your target keywords bringing traffic & conversions with it.
I'm fully conversant with all aspects of this particular CMS platform from content publishing through to setting titles, descriptions and other meta data.
Some of the things I can help with include:
Squarespace SEO Audits – to identify any issues relating to your websites design, build, construction and content
Keyword research – to ensure that your landing pages are targeting the optimal group of keywords including long-tail
Content strategy – to plan out the content your website needs to have better relevance scores & to stand a better chance of ranking
Content marketing – to help distribute additional content to drive referral traffic, brand awareness and to earn additional links and authority
Link building & digital PR – to help drive your domain authority up and to give your squarespace website a better chance of ranking
Technical improvements – Having worked with hundreds of squarespace websites over the years, I understand existing weaknesses within the platform where technical improvements are usually required – this includes working around the lack of WEBP support, poor core web vitals amongst other things
There isn't any aspect of your campaign that will be left unturned. As one of the UK's specialist squarespace SEO experts you can be safe in the knowledge that you'll get a hands on, responsive SEO consultant who knows the quickest process to optimising your website and getting it ready to rank.
Whether your business needs to generate more enquiries/leads, whether it needs more eCommerce sales or whether you just need more traffic for other purposes – I can help propel your site up search engines pages to premium spots that'll drive growth.
What you can expect
It's important that your marketing efforts pay their dividends, be it more new visitors, more customers, more sales and product enquiries.
Regardless of which content management system you are running, you can expect a fully-fledged digital marketing strategy that is omni-channel, meaning I'll work on your search engine optimisation but, I'll also look at your other channels to support organic, such as paid and social media channels.
With a bespoke squarespace SEO service, you can expect your squarespace website to climb through Google's search result pages- whether you rank or not will to a degree, impact the amount of time it takes for rankings to reach first page and to climb further.
Overall you can expect to see:
Increased website rankings in google search
Increase keyword coverage (the volume of keywords ranked for)
More traffic and sales through your squarespace website
Ongoing performance gains
Increased domain authority
Increased return on investment (ROI)
Delivery of agile SEO strategies
How I'll Get Your Squarespace Website Ranking
There are a few key steps that'll be taken to help drive initial and sustained ranking growth, some of the processes involve:
Conducting a full technical on page audit to assess all of the things that need fixing
Conducting a full website landing page content audit to assess the quality of your pre-existing website copy
Evaluating your Google Search Console Data to see where the low hanging fruit is (opportunities)
Produce new website content with high topical authority, relevance and constructed in a way that engages and enthralls your target visitors
Optimise internal pages with appropriate URL slugs, headings, meta, SCHEMA
Internal linking – to drive value between pillar and child pages
External linking & digital PR to boost domain growth
Brand reputation building
Google my business optimisation
Squarespace SEO Requirements & Pre-Requisites
There are lots of things that should be undertaken before and whilst your website is published, some of these things include:
Making sure your titles and descriptions are set
Making sure your websites landing pages have properly constructed titles and descriptions is absolutely essential. The squarespace SEO editor allows you to set the required meta data for each landing page.
Making sure you have no duplicate or orphaned Squarespace pages
As part of the technical SEO audit, any stray squarespace site pages will be removed as will any duplicate pages / content.
Making sure your landing pages contain unique, high quality content
Good quality content is one of the foundations of a good SEO campaign. Any SEO expert with experience will understand that content needs to be written for the end user & needs to be constructed in such a way that it meets their needs or "intent".
Good content isn't about writing aimlessly or stuffing keywords in, it's about providing bite size, digestible pieces of content that detail an offering be it a product, service or useful information.
Making sure your Squarespace SEO is better than competing websites is one part of the campaign, the other part is to write content that screams authority, quality and is something you know your target audience would read.
High-quality content will naturally do better in search results.
Appropriate Use of Headings & On Page Elements
Your content should be broken up using sub-headings such as H1, H2, H3, H4, H5 and H6 tags – these can be used to convey other relevant parts of your content and help to make everything easier to read and digest.
Structured use of headings is an important search engine optimisation factor for your squarespace website. A proper array of headings is ideal for improving customer experience – a customer should be able to easily read and understand your content without getting bored by big slabs of paragraph text.
Other on-page elements can include image file names, ALT attributes, properly structured content and internal links between relevant pages.
Creating Properly Structured URL Slugs
Your squarespace site will allow you to configure URL slugs (The visual aspect of a uniform resource locator). These are important as they can be used to include keywords, they can also be used to layer pages (forming a breadcrumb structure).
As part of your squarespace SEO campaign i'll work to ensure that all URL slugs are optimised.
Squarespace SEO FAQS
Here are some commonly asked questions around search engine optimisation for Squarespace CMS based websites.
Does my Squarespace site need SEO?
If your website currently gets little or no traffic then the answer is a resounding yes. However, if your website already gets organic traffic and you want to drive more growth then the same answer applies, YES.
However, it's not just about embarking on an SEO campaign to grow traffic, there has to be a strategy that looks at what keywords need to be ranked for and projected outcomes from the strategy.
Just building traffic on its own brings little value, especially if most of your website's traffic comes from blog posts.
What does your business need to achieve and how can SEO help to reach those goals.
How long will it take to see results?
A Squarespace SEO campaign can take anywhere from 3 months to a year to see results, the time-frame for ranking is very much conditional on your website's existing performance, domain authority, coverage, and whether Google is due to launch any updates.
This will depend on a wide array of factors from your websites existing health and organic performance through to the SEO strategy and budget itself. Tighter budgets may mean a longer turn-around in content and technical SEO fixes, whilst more modest budgets may allow for a larger throughput of content, fixes and digital PR link building.
Most clients will typically see results between months 3-6 but this can and does vary.
Can you produce all of the websites content based on requirements?
Yes, I have access to a wide panel of high-quality content writers who can produce well-written, engaging, structurally sound content as part of your Squarespace SEO campaign. Be it information/research content, service content, Google E-A-T content, product or category content – it doesn't matter, all types of content are covered and will be delivered as part of the overall strategy.
How much will Squarespace SEO Cost?
The SEO service itself is determined by an initial technical and visibility audit to ascertain how much work there is to be done at a content, link and CMS level. SEO costs typically vary from £1-£3k a month however this is dependent on the niche, keyword coverage, size of website and more.
I provide a free no obligation quote and ranking assessment for SEO services, so, if you would like to know more please book your free Squarespace SEO consultation with me.
Unlike your traditional SEO company my costs do not contain as many overheads, making me competitively priced to research, execute and deliver strong SEO improvements.
What does an SEO Consultant do?
An SEO consultant is someone with a background and knowledge of making websites favourable to end users and search engines. An SEO consultant will typically analyse and optimise a website in stages, building a higher quality set of landing pages that offer good user experience, valuable content and meet the intent of the searching audience.
Is Squarespace Good or Bad for SEO?
Like any other CMS, there is no downside to Squarespace & ranking this particular platform is no different from working with a platform such as Magento, WordPress, Shopify, OSCommerce, BigCommerce, Drupal, or Umbraco.
Is site speed important?
Yes it is as it has an impact on customer experience/visitor experience. Slow websites generally offer a poor user experience whilst fast websites are far more welcomed. Sites should load quickly in any web browser on any device be it mobile or desktop.
Whilst a great deal of speed improvements can be had in Squarespace, the platform does not yet support WEBP images, which means all images used on your website should go through lossless compression before being uploaded.
Site speed or "core web vitals" is a ranking factor that will be more weighted as of the Google core update of May 2021.
Medium & Large businesses across the UK choose to work with me because of my extensive experience and demonstrated industry wide knowledge. With over 21 years SEO experience, I have built up SEO expertise that is generally unmatched elsewhere – meaning I can deliver exceptional ranking growth for businesses operating websites on any platform including Squarespace.
SEO Results Delivered 
For Clients
Daniel Foley has delivered substantial results for businesses across a whole variety of different business verticals/niches from finance and healthcare through to education, home improvement, manufacturing and more.
Daniel Foley helped to deliver an SEO strategy and campaign for www.tiling-courses.co.uk, helping them to rank top 3 in Google Organic for over 300 tiling keywords around tiling, training and education.
The Orangeries UK joinery chain approached Daniel Foley's SEO consultancy back in 2013. We built a new website and launched an effective SEO service that delivered substantial ranking and traffic increases.
Daniel Foley and his agency Assertive worked with Oxford City Council on a number of SEO & Web Dev projects. SEO was delivered to their direct services arm focusing on commercial businesses.
Squarespace SEO – is it worth it?
If your business has invested in having a website built on this content management system then it's almost certainly worth the investment to optimise & rank. 
There are lots of online forums and SEO communities that discuss various aspects of Squarespace SEO and the limitations that this particular CMS might have when it comes to optimising for search engines.
According to a Study by AHREFS on Squarespace
 Only a small portion of squarespace websites get 100+ organic visits per month, however, this isn't down to the choice of CMS but more other factors.
Most businesses using this platform have opted to because of it being a cheap, low cost option that's user friendly even to inexperienced webmasters. It's generally this that results in poorly optimised titles and descriptions, mismatched keywords, insufficient landing page content and a lack of authority link building.
Squarespace websites have as much potential to rank as WordPress, WIX, Shopify & Magento websites.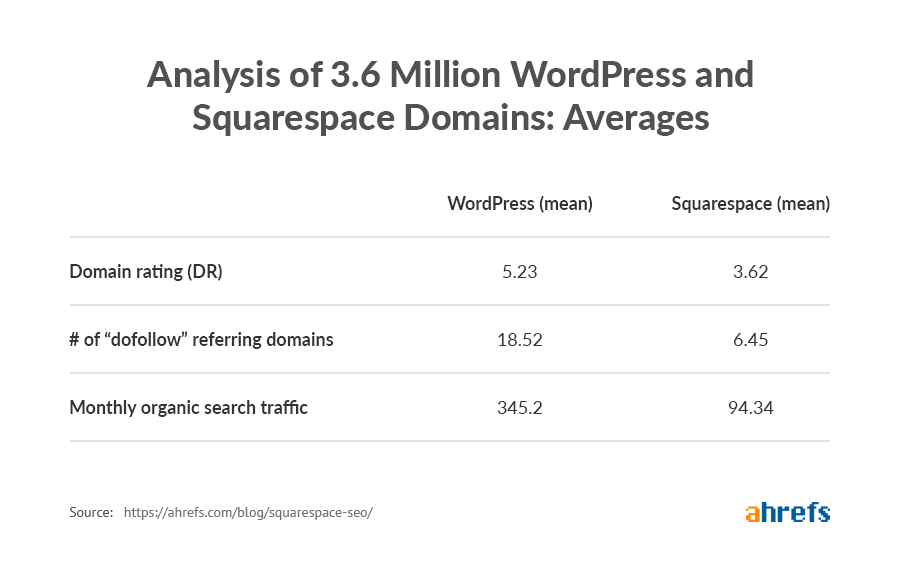 Can you help with Squarespace Migrations to Alternative CMS Platforms?

The answer is…….
Yes – If you are looking to transition from this CMS to another CMS I am able to conduct pre-migration SEO audits and post migration audits to help transition CMS without losing rankings or traffic (or to mitigate as best as possible).
"Most Websites have basic issues that can be fixed quite quickly"

More than 92% of Squarespace websites suffer from basic configuration issues, poor core web vitals, outdated SEO plugins amongst other issues.
We used Daniel Foley's agency Assertive Media for our SEO strategy. They delivered a new website focused around our target audience along with an SEO strategy that delivered outstanding results. We are now number 1 for over 100 of our target keywords and are booked up for the rest of the year.
I have found Daniel Foley to be always only happy to help and give pointers/advise whenever it has been needed (even if it means outside of working hours to help me/us achieve deadlines etc.). His wealth of knowledge in the SEO world is incredible. We're very pleased with the results & quality of work and saw an increase in traffic & enquiries as a result.
We used Daniel Foley & his agency to develop Can't Pay My Fine which is a revolutionary new website to help people with free government funded support. They built the website, delivered a content strategy and have taken us from 0 visitors to over 300 clicks a day for a whole range of legal searches – overall they've transformed our business.
What can you expect from an SEO campaign?
Investing in SEO services can feel daunting, especially if in the past you didn't see the results or feel the value for money. With my consultancy services you can expect:
All crawl errors and coverage issues in search console to be fixed
All site warnings to be addresses
Pages on your website optimised correctly 
Updated website content to meet end user needs
Better internal and external linking
Improved WordPress Core Web Vitals & Speed
An increase in impressions from search
An increase in Non brand clicks from search
More Sales, Leads, Enquiries, Visitors 
Are you ready to start your optimisation journey?
We're not just wordsmiths or purveyors of AMAZING content, we're incredible content marketers with over 2 decades of experience making great digital content and getting out there in front of tens of thousands of people.
Why Work with Daniel Foley?
With over 20 years experience delivering performance search engine optimisation campaigns, Daniel Foley has significant experience in boosting local businesses visibility. From generating more social media awareness to helping brands build more trust. Whether you are looking for an SEO specialist for Small Business or even a Local SEO specialist in London – Daniel is your go-to SEO expert.
Reap all the benefits of an organic specialist without the large costs associated with digital marketing agencies.

I have used Daniel for SEO consultancy for the last 3 years. He's helped our jewellery business to grow significantly online. We initially used Daniel for some SEO consultancy, but, after a few months we realised it would be better to just hand the SEO over to him completely. Since then our keywords are all showing prominently in Google and our analytics traffic is up 100's%. I can't thank Daniel enough and I hope this review encourages others to seek his expertise.
John Dodd


February 21, 2019
Best SEO ever, If your looking for expert fast results then look no further, just give Daniel a call and let him work his magic on your website and SEO. I have been with this company for 2 years now and traffic to my sight amplifies every week, I was a new company starting out back then in a competitive market and Daniel had me on the first page of Google within a few months and No 1 within another two. What a difference higher rankings makes to enquiries and income to your business, we are extremely busy now. Cant thank him enough for the difference he has made. Highly Recommended, you won't regret it. Darren UK Pro Tiling Training
Darren Yorke


January 27, 2019
Best SEO ever, If your looking for expert fast results then look no further, just give Daniel a call and let him work his magic on your website and SEO. I have been with this company for 2 years now and traffic to my sight amplifies every week, I was a new company starting out back then in a competitive market and Daniel had me on the first page of Google within a few months and No 1 within another two. What a difference higher rankings makes to enquiries and income to your business, we are extremely busy now. Cant thank him enough for the difference he has made. Highly Recommended, you won't regret it. Darren UK Pro Tiling Training
Darren Yorke


January 27, 2019